Hello,
    My name is Unlishema Dragonsworn and I have created a Slayer Assistant app for Alt-1 Toolkit. The main purpose of this app is to make picking your slayer task more efficient and easier. Most players new to slayer, players wanting xp min-maxing, and even players that want a easy to lookup utility for slayer task assignments. No longer type every slayer monster name into the wiki to search for the wiki page just to get the info you need to go kill it. Ok this is getting too ridiculous... I sound like an old TV advertisement lol.
Ok now for the, plain and simple. Have this app open when you are getting a new slayer task and it will give you fast and easy to read info about each task you can choose, then just choose your task based on the info.
This app was heavy influenced by another app created by codedninja. You can view it here; however, it is no longer hosted so I had to recreate it from scratch.
Use the link below to install onto your Alt-1 Toolkit.
Last updated as of Feb. 13th 2022 (Install Slayer Assistant)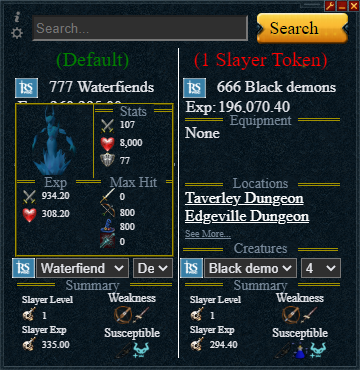 If you have any suggestions for this app or would like to assist with database correcting please make a post or contact me on the discord. Many people have gave input and the majority of it has been used to better the app and what hasn't been used either takes a lot of time to add or was used to make other ideas even better (There are a few missing still and I have them documented).
If you like this app please consider donating to support future development, you can use this link here or there is a button on the app below the settings button.
Last edited by unlishema (2022-02-14 02:18:16)